Overview
August 25-27, 2021 at Beau Rivage Resort, Biloxi
Make plans now to join your fellow MASI members and friends at the 23rd Annual MASI Fall Conference. This year's meeting, MASI-ssippi, will be a celebration of everything great about Mississippi. Be prepared to enjoy true Southern hospitality while learning the latest from the self-insured workers' compensation and health insurance industry. Registration now open!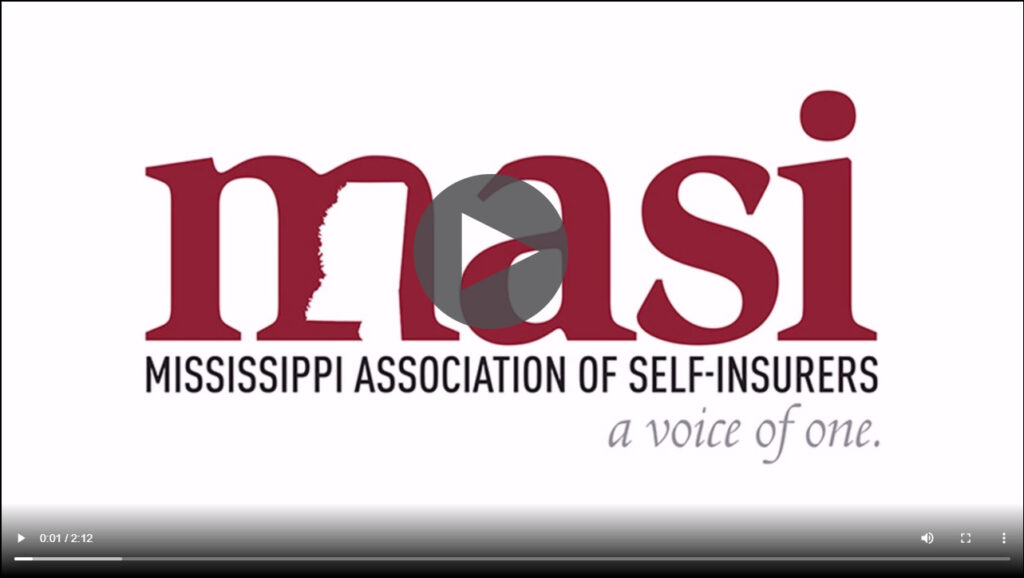 Agenda
Wednesday, August 25, 2021
6.5 hours of Continuing Education
$300 given away
1:00 – 5:00
Registration Desk Open – Registration Desk.
1:00 – 5:00
Exhibitor Set up
2:00 – 4:00
Cornhole Tournament
Mississippi: Athletes of Every Kind
Known for dominating every sport, Mississippi athletes are well known for their talent, but you don't need the skills of Walter Payton, Archie Manning, or Brett Favre to participate in the AmFed Corn Hole Tournament. Anyone and everyone can play! Come enjoy a little competition and fun as we kick off this year's conference.

Sponsored by AmFed
6:00 – 7:30
Welcome Reception
Mississippi: The Birthplace of Music
Don't let the blues get to you! Come visit with exhibitors and join all your MASI friends at the Welcome Reception! Enjoy live music and food and drinks before heading out to dinner on the beautiful Mississippi Gulf Coast.

Blues music by Chris Gill
7:30 – until
Dinner on Your Own
Thursday, August 26, 2021
2.5 hours of Continuing Education
$400 given away
7:30 – 8:15
Continental Breakfast in Exhibit Hall
7:30 – 8:10
Faith Based Claims Association Breakfast
MASI will once again kick off a day of education by gathering for breakfast as a people of faith. This year's Faith Based Claims Association Breakfast will feature the testimonies of former Mississippi Governor Phil Bryant and his wife, the former First Lady Deborah Bryant. Plan to spend a few minutes with your MASI friends as the Bryants share about their faith throughout their life of politics and service to the citizens of Mississippi.
Former Governor and Mrs. Phil Bryant
8:15 – 4:30
General Session
8:15 – 8:30
Opening Ceremony & Welcome
Welcome by Andrew "FoFo" Gilich, Mayor, Biloxi, Mississippi
8:30 – 9:00
Update from MWCC
Mississippi Work Comp: State of the MWCC
Spend a few minutes with Mississippi Work Comp Commission Chairman Mark Formby as we receive an update from the past couple of years. From the pandemic to legislative decisions, how has the Commission managed since we last met?
Mark Formby, Chairman, Mississippi Work Comp Commission
9:00 – 10:00
Education Presentation
Mississippi: New Flag Begins New Season
Speaker of the Mississippi House of Representatives Philip Gunn will lead a discussion about the process of legislating, designing, and selecting a new flag for Mississippi. Through this panel, we will hear from key people involved in the process while learning how this new flag will benefit the business community and the work comp and health insurance industries.
Moderated by Betty Arinder, JD, Wells, Marble & Hurst
Honorable Philip Gunn, Speaker, Mississippi House of Representatives
TBD, Representative, Commission to Redesign the Mississippi State Flag
TBD, Designer, Mississippi Flag
10:00 – 10:30
Morning Break
10:00 – 10:30
Book Signing with Ken Starr
10:30 – 11:30
Education Presentation
Mississippi: Growing Up with The Golden Rule – Integrity in how we treat others
For those that work in the workers' compensation and health insurance industry, our integrity in who we are and how we work is of utmost importance. In this session, Ken Starr will offer his insight into business ethics using examples from his storied career and his highly anticipated book, Religious Liberty in Crisis: Exercising Your Faith in an Age of Uncertainty.
Ken Starr, Of Counsel, Lanier Law Firm
Introduction by Jennifer Nicaud, Administrative Judge, Mississippi Workers' Compensation Commission
11:45 – 1:00
Conference Lunch
Recognition of Charity of Conference – Going Gold for Mississippi Kids
Presentation of Friend of MASI Awards

2021 Mississippi Healthcare Update
Now that 2020 is behind us (if it really is), what issues are Mississippians facing in regards to health insurance coverage and how can we address those issues and provide for the needs of our clients. Join Insurance Commissioner Mike Chaney as he provides a look at issues most likely to affect those working in the health insurance industry.
Mike Chaney, Commissioner, Mississippi Insurance Department
Bob Williams, Director of Life and Health Actuarial, Mississippi Insurance Department
Throughout the afternoon – Book signing with Ken Starr
1:00 – 2:00
Education Presentation
MWCC Administrative Judges Panel Discussion
In this panel discussion, we will hear from three Administrative Judges from the Mississippi Work Comp Commission offering a review of recent cases and trends affecting work comp in Mississippi. Our panel includes the most senior judge as well as the newest offering a range of insights and perspectives.
Deneise Turner Lott, Administrative Judge, Mississippi Workers' Compensation Commission
Alan Goodman, Administrative Judge, Mississippi Workers' Compensation Commission
Jennifer Nicaud, Administrative Judge, Mississippi Workers' Compensation Commission
Moderated by Jennifer Scott, JD, Attorney, Wise Carter
2:00 – 2:30
Afternoon Break – Exhibit Hall
2:30 – 3:30
Education Presentation
Mississippi: Transparency isn't only in the River
In January 2022, as part of the COVID-19 relief packages instilled by Congress, many employers will soon be facing unexpected reporting requirements due to new rules and guidelines regarding transparency in healthcare costs. In this session, we will hear from representatives of the National Association of Health Underwriters to learn what the rules will be and how they will have an impact on Mississippi employers.
Janet Trautwein, Executive Vice President & CEO, National Association of Health Underwriters
Eugene Starks, Partner, Benefit Administration Services

Sponsored by the Mississippi Association of Health Underwriters
3:30 – 4:30
Education Presentation
In this presentation, we will hear from Jeff Summers, MD, spine intervention specialist with NewSouth NeuroSpine, as he offers guidelines, specifically targeted to Work Comp Adjusters, in facilitating necessary pain management treatment and avoiding unnecessary or inappropriate interventions.
Jeff Summers, MD, Spine Intervention Specialist, NewSouth NeuroSpine
5:30 – 7:00
Door Prize and Draw Down Party
Friday, August 27, 2021
8:30 – 9:00
Continental Breakfast
9:00 – 11:30
General Session
9:00 – 9:45
Education Presentation
Digital Therapeutics and Digital Health
There is an evolution occurring in how digital technology is advancing and being used to support and drive engagement into personal wellness, health diagnostics and monitoring, and focused therapeutic interventions. This continuum of digital health tools is important to understand as employers, brokers and consultants, and healthcare providers integrate them into plan design and personalized plans of care. This session will review the basics of the Digital Health Continuum and how Digital Therapeutics can be used to evolve employer-sponsored health plans to give additional support to its members.
Murray L. Harber, Executive Director, Mississippi Business Group on Health and Founding Board Member, Employer-Provider Interface Council
Randy Vogenberg, PhD, Principal, Institute for Integrated Healthcare, and Board Chair, Employer Provider Interface Council
David Lupinsky, VP Digital Health and Innovation, CorVel Corporation

Sponsored by CorVel Corporation
9:45 – 10:15
Education Presentation
Safety and Return to Work
Preston Williams, Director of Self Insurance, Mississippi Work Comp Commission
10:15 – 11
Education Presentation
Mississippi Medical Marijuana: Good Vibes and a Blunt Discussion
Initiatives, court battles, legislative issues, voter turnout … in some form, medical marijuana will eventually reach Mississippi, but what will it look like and how will affect those in the work comp and health insurance industry? In this presentation, we will discuss the trends and lessons learned in other states to see how this divisive product will work in Mississippi.
Roger Riddick, JD, Attorney, MGC Law
11 – 11:30
Education Presentation
Mississippi: In it for the Long Haul
Unfortunately, the COVID pandemic of 2020 continues to be a part of our everyday. In this presentation, Dr. Steven Stogner will discuss the long-term effects of the coronavirus and how this virus will continue to impact the employees of Mississippi who are covered by work comp and health insurance.
Steven Stogner, MD, Pulmonary Medicine, Critical Care Medicine, Hattiesburg Clinic
11:30
Closing Remarks
Adjourn
Register Now
Sponsors
Thank You to Our Sponsors!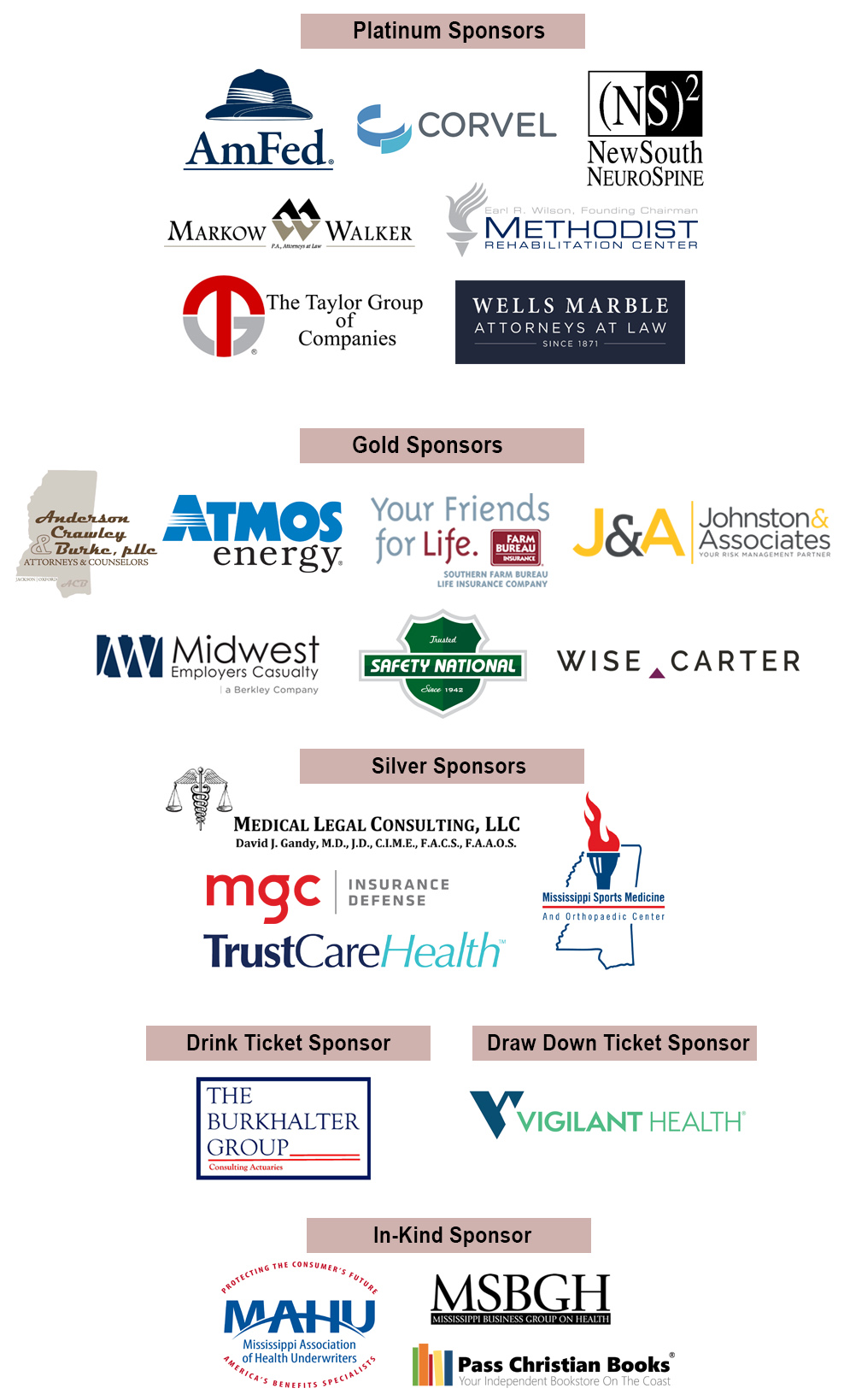 Exhibitors
Current list of Exhibitors:

Ambassador Service Group
AWPRx
Bienville Orthopaedic Specialists
Capital Ortho
Carlisle Medical
Carr Allison
Case Experts
Central Adjustment Company, Inc.
CorVel
Delta Group
DigiStream Investigations
Direct Pay Provider Network
Examworks Compliance Solutions
First Choice Health Plan of Mississippi
Genesis Information Services, Inc.
Genex
HealthMed Inc.
Homelink
HUB International
JMS Consulting
Johnston & Associates
Ken Starr Book Signing
Kids Chance
Levius Medical
M. Joseph Medical
Methodist Rehabilitation Center
Mississippi Physicians Care Network
Mississippi Sports Medicine & Orthopaedic Center
NeuroRestorative
NewSouth NeuroSpine
Novare
NRC TASS
Occupational Health Center
Priority Transportation & Language Services
ProCare Transportation & Language Services
ReMed in Partnership with Learning Services
Southern Behavioral Medicine Associates
Synergy Myofascial Release & Rehab, Inc.
The Case Management Group
The MRI Center
The Mustard Seed
The Orthopaedic Group, P.C.
Total Healthcare Solutions, LLC
Trustcare
UMMC Center for Telehealth
UMMC Department of NeuroSurgery
Vigilant Health
Vital Care Rx
Vona Case Management
WAM
Wright Rehabilitation Services, Inc
(as of July 20, 2021)