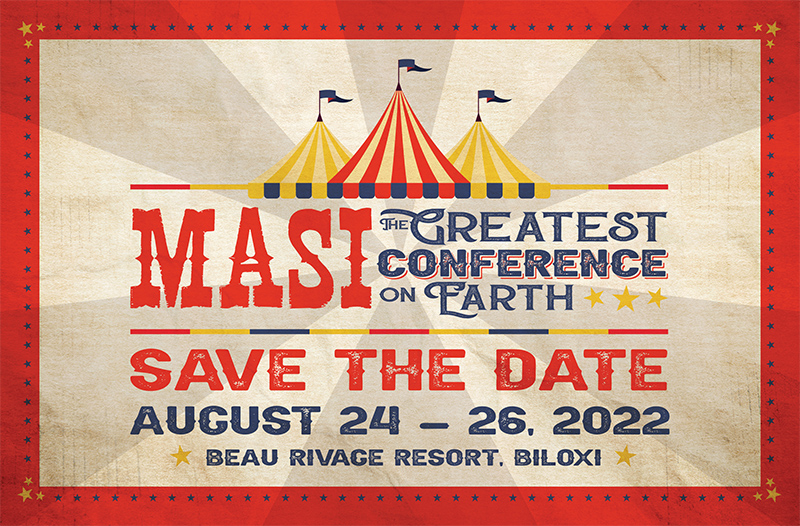 Overview
August 24-26, 2022 at Beau Rivage Resort, Biloxi
Come one! Come all!
Step right up and plan now to join your fellow MASI members and friends at the 24th Annual Fall Conference. This year's meeting, The Greatest Conference on Earth, will be a delightfully fun escape to the circus days of old. Be prepared to network under the Big Top while learning the latest from the self-insured workers' compensation and health insurance industry. Registration now open!
9 Hours Continuing Education
Faith Based Claims Association Breakfast
Updates from the Mississippi Workers' Compensation Commission and Mississippi Insurance Department
Midway Games
Welcome Reception and Drawdown Party
Exhibitor Door Prizes
$1,500 Drawdown Grand Prize
Afternoon Break Out Sessions – Work Comp Track and Health Benefits Track
This year's conference agenda will provide the latest information on the self-insurance market in Mississippi. If you operate a business with employees in Mississippi, this conference is for you!
Do you need a hotel reservation?
Make your hotel reservations directly by calling the Beau Rivage at (888) 750-7111. Refer to the MASI 2022 Conference when making your reservation to receive the $115 group rate. Room reservations made after July 18 will be made on space and rate availability. Hotel check-in time is 3 p.m. and check-out time is 11 a.m.
You are strongly encouraged to use the online services of the Beau Rivage for booking hotel rooms. Please use the following link to do so:
https://book.passkey.com/e/49962391
If rooms are requested prior to check-in time, the resort will make every effort to accommodate your specific requests based upon availability. Luggage storage is available for early arrival and late departure.
Hotel Information
The Beau Rivage
875 Beach Boulevard
Biloxi, Mississippi 39530
(888) 750-7111
Event Cancellation Policy
To adequately prepare for a successful event, please review and understand that cancellations made 30 days or more in advance of the event date will receive a 100% refund. Cancellations made within 14 and 29 days in advance of the event date will incur a 50% fee. Cancellations made within 13 days of the event will not receive a refund.
Agenda
Wednesday, August 24, 2022
| | |
| --- | --- |
| 1:00 – 5:00 p.m. | Registration Desk Open. Registration Desk. |
| 1:00 – 5:00 p.m. | Exhibitor Set up in Magnolia Ballroom |
| 2:00 – 4:00 p.m. | Cornhole Tournament – Camellia Ballroom |
| 6:00 – 7:30 p.m. | Opening Reception with Exhibitors – Magnolia Ballroom |
Thursday, August 25, 2022
7:30 – 8:15 a.m.
Continental Breakfast in Exhibit Hall. Magnolia Ballroom
7:15 – 8:00 a.m.

Faith Based Claims Association Breakfast. Azalea Ballroom

Senator Jeremy England

8:15 – 4:30 p.m.
General Session. Camellia Ballroom
8:15 – 8:30 a.m.
Opening Ceremony & Welcome. Camellia Ballroom


Welcome by Andrew "FoFo" Gilich, Mayor, Biloxi, Mississippi

8:30 – 9:00 a.m.

From the Chairman's Desk: An MWCC Update  

Chairman Mark Formby, Mississippi Workers' Compensation

In this presentation, Mississippi Workers' Compensation Commission Chairman Mark Formby will describe the current workers compensation insurance environment in Mississippi for those working to help injured workers return to work.

9:00 – 9:30 a.m.

An Update from the Mississippi Insurance Department

Bob Williams, Director of Life and Health Actuarial, Mississippi Insurance Department

In this presentation, Director Bob Williams will examine the current environment regarding healthcare and health insurance in Mississippi from the regulator perspective while recognizing the challenges the state and industry are now facing and reviewing recent history for information learned.

9:30 – 10:30 p.m

From the Bench: An Overview of Workers' Compensation within Mississippi's Appellate Court System (Ethics)

Kenneth Griffis, JD, Associate Justice, Mississippi Supreme Court

Mississippi Supreme Court Justice Kenny Griffis will examine the appellate court system for the workers' compensation industry in Mississippi by reviewing the responsibilities and defining the differences of the Mississippi Supreme Court and the Mississippi Court of Appeals.

10:30 – 11:00 p.m.
Morning Break in Exhibit Hall. Magnolia Ballroom
11:00 – 12:00 p.m.

Working Together: How to Achieve Trust and Successful Employee Relations

Stormie Janzen, Vice President of Safety and Recruiting, Total Transportation of Mississippi

In our featured presentation, Stormie Janzen will share employee-relation success stories from her experience as Vice President of Safety and Recruiting for Total Transportation of Mississippi. Ms. Janzen will discuss the importance of safety and wellness and suggest ways to develop a work environment where injured and sick employees are eager to return to work.

12:00 – 1:00 p.m.
Conference Lunch. Exhibit Hall in Magnolia Ballroom.
 

AFTERNOON SESSION

Work Comp Track – Camellia Ballroom

1:00 – 1:45 p.m.

Hazards and Pitfalls of working from Home! Are you Covered?

Roger Riddick and Catherine Bell, MGC Insurance Law

Ouch, my knee!  I tripped over my dog when working at home?  Is this covered? As more and more people telecommute, how does the coverage and law adapt for the novel issues arising from this shift? Find out in this presentation by attorneys Roger Riddick and Catherine Bell.

1:45 – 2:30 p.m

Avoiding Litigation: What Can Employers and Insurers Do?

Andrew Faggert, Markow Walker

The defense of claims is one of the most vital aspects of the workers' compensation industry. In this presentation, we will hear from a practiced litigator offering various defense tools that can be used to minimize or outright avoid exposure at pivotal stages of litigation.

2:30 – 3:00 p.m.
Break with Exhibitors – Magnolia Ballroom
3:00 – 3:45 p.m.

Work Comp: Perspective of the Medical Clinic

Nancy Germany, MS Sports Medicine

Monica Hawthorne, NewSouth NeuroSpine

Lauren Pierce, Bienville Orthopedic

In this presentation, a panel of medical clinic representatives will offer their insight into managing the workers' compensation process within the provider system – offering their understanding into compensability, clinic processes, scheduling, treatments. During this presentation, each panelist will discuss their role at the clinic regarding workers' compensation and provide suggestions of ways everyone can be successful to quickly return injured employees to work.
3:45 – 4:30 p.m

A Provider Perspective: What's the latest in the orthopedic treatment for those injured on the job?

Hunter Berry, MD, Southern Bone and Joint

Using case studies and experience with a large work comp caseload, Dr. Hunter Berry will cover a variety of topics while educating on the current medical options for injured employees.

 

AFTERNOON SESSION

Health Track – Azalea Ballroom

1:00 – 1:45 p.m.

Hope: How can we levy the science of hope into employee behavioral health

John Damon, PhD, Canopy Children's Services

How does a sense of hope combat the disease of mental health? In this presentation, Dr. John Damon will discuss the power of hope in the fight against mental health. He will discuss the negative consequences behind a feeling of hopelessness and positive reinforcements employers can offer.

1:45 – 2:30 p.m

Telemedicine – Mental Health Benefits  

Jeff Greco, JB Greco & Associates, Meridian Health Services Network

Depression, anxiety, substance abuse, job burnout and other mental health issues are rampant among US workers – and they're wreaking havoc on businesses. Mental illness and substance abuse cost employers 79-105 billion dollars each year in lost productivity, absenteeism, and increased medical and disability costs (Center for Prevention & Health Services). For every $1 dollar invested in telemedicine, cost savings range between $2-$4. In this session, we will discuss the cost-efficiency of telehealth and its use within self-funded plans.

2:30 – 3:00 p.m.
Break with Exhibitors – Magnolia Ballroom
3:00 – 3:45 p.m.

Obesity: Why it matters – Review of the Disease and Economic Impacts

Jeff Goforth, PharmD, NovoNordisk

Review data showing that obesity is a chronic disease and should be treated like other chronic diseases

Stigma and bias data
Obesity as a disease
Comorbidities

Review Economic Impacts relevant to employers and insurers

Economic burden of obesity
Economic value of weight loss

3:45 – 4:30 p.m

Physical Medicine and the science of exercise

David Lupinsky, Corvel

Murray Harber

5:30 – 7:00 p.m.
Door Prize and Drawdown Party – Magnolia Ballroom
Friday, August 26, 2022
7:45 – 8:30 a.m.
Continental Breakfast. Outside in Foyer of Camellia Ballroom.
8:15 – 9:00 a.m.

Nobody Loves Your Employees Like You Do! How to Manage the Cost of an Employee Health Benefit Plan from an Employers Perspective

Panel discussion

Billy Sims SFBLI
Maury Hull, HolMac
Marshall Bouldin, MD, Vigilant Health
Moderated by Molly Staley, Capital Ortho

Self-insured employers have an interest in the value of health care costs not only because they help pay for their employees' health insurance coverage, but also because better employee health means fewer missed days of work and better productivity. In this presentation, our panel will discuss options for employers in managing those increasing health benefits costs.

9:00 – 9:45 a.m.

A Case Review: Lessons Learned from 2020 Work Comp Claims Education 45 minutes

Judge Jenny Nicaud, Mississippi Workers' Compensation Commission

Associate Justice David Ishee, Mississippi Supreme Court

In this presentation, we will hear from jurists from the Mississippi Workers Compensation Commission and the Mississippi Supreme Court in a review of work comp cases appealed to the Full Commission, the Mississippi Court of Appeals, and the Mississippi Supreme Court during 2020. This update will review cases particularly significant as viewed by the judicial panel.

9:45 – 10:00 a.m.
Break
10:00 – 10:45 a.m.

Ethics in Government and Government Relations (Ethics)

Tammra Cascio, Partner, Casico Sanford Government Law Group

Representativa Hank Zuber, Mississippi House of Representatives

Discover the similarities between ethics in Government Relations and Workers' Compensation as Lobbyist Tammra Casio and Representative Hank Zuber share their experience in communicating and "doing the right thing" while working in the Mississippi Legislature and for the people of Mississippi.

10:30 – 11:30 a.m.

Panel discussion Cervical vs Spine Injuries: How to Tell The Difference

Jeff Conrad, MD – Sports Med – The Orthopedic Group in Alabama

Drew Henderson, MD – Spine – The Orthopedic Group in Alabama

How best to evaluate whether an injury is a shoulder injury or a spine injury. How can you tell the difference?

11:30 a.m.

Closing Remarks. Camellia Ballroom

Adjourn
Register Now
Sponsors

Charity
2022 Conference Charity
Kids Chance of Mississippi
In Memory of Stephanie Genthon Kilpatrick (August 26, 1948 – September 29, 2021)
Since the last Fall Conference in 2021, MASI (and the entire workers' compensation community in Mississippi) lost a dear friend, supporter, and volunteer when Stephanie Kilpatrick passed away. Past conference attendees were greeted at almost every event by Stephanie's smile and contagious enthusiasm for helping those injured at work. This enthusiasm carried over into many teaching opportunities. Stephanie helped write and develop MASI's CSIWCP program and was a regular speaker at our conferences for many years.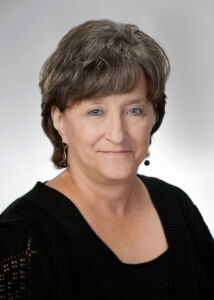 Stephanie earned her nursing diploma from Spring Hill College in Mobile, Alabama and entered the military in 1969 through the Army Student Nurse Program. During her active-duty service, she was with the 24th Evacuation Hospital and spent a year at Long Binh in Vietnam. She continued her military career in the reserves and retired as a Lieutenant Colonel. Stephanie then returned to school to earn a bachelor's degree in Nursing from Georgia State University. Her career took her to Mississippi where she became Director of Nursing and Assistant Administrator at Kings' Daughters Hospital in Brookhaven, Mississippi. Combining her management and nursing skills, she worked as a case manager for West Curtis-Hughes in Jackson, Mississippi, and subsequently Vice President of Hughes and Associates. 
With an entrepreneurial spirit, Stephanie founded and was president of Self Insured Solutions in Jackson and remained with the company when it merged with Rehabilitation, Inc. She was active in the Mississippi Association of Self-Insurers and served on the Mississippi Workers Compensation Education Association and was a consultant to the Mississippi Workers Compensation Commission. Her passing this past year is a loss felt by each of us in Mississippi's work comp industry.
This year, the MASI Board of Directors has chosen to remember Stephanie by contributing to Kids Chance of Mississippi. A nursing scholarship has been established in her name and this year's Fall Conference charitable contribution will be designated toward this scholarship, which will help a child of an injured worker continue their nursing education.
As part of this year's conference, we will give attendees the opportunity to donate toward the Kids Chance of Mississippi nursing scholarship set up in her memory. If you are unable to attend this year's conference or would like to donate ahead of time, please use the link below to do that.
Click Here to Donate to Kids Chance.
Kids' Chance of Mississippi is a scholarship fund established to provide scholarships for children of workers who have been seriously or fatally injured on the job. When a worker is severely injured or killed on the job, it doesn't just affect them – it affects their entire family. Thinking about the future is put off, and when the times comes, the cost of higher education can be well out of reach. Kids' Chance of Mississippi works to bring together all those involved in workers' compensation issues — legal, medical, and business communities — to support these children through reaching goals once thought unreachable.
The MASI Board of Directors can think of no better way to remember our friend Stephanie Kilpatrick than by helping the children of those injured or killed on the job in her memory.