A record number of CEU hours!
A record number of speakers!
Over 2,700 business cards exchanged!
A record number of exhibitors (47)!
Over $5,000 in cash and prizes given away!
$2,000 raised for the American Cancer Society!
"I have been to many conferences over the past 3 years but this one BY FAR was the most welcoming, most well run, and absolutely most fun!"
"Congratulations! Another overall Great Conference!"
"… the best conference MASI has had."
FIRST EVER "CARDS FOR A CURE"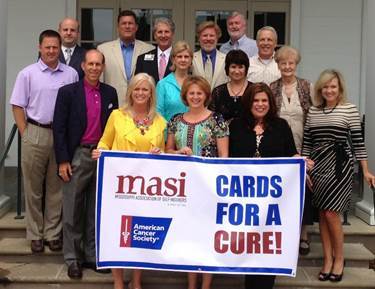 MASI'S "CARDS FOR A CURE!" BENEFIT RAISES $2,000 TO FIGHT CANCER!
MASI's first-time ever "Cards for a Cure!", an original idea developed by MASI to engage conference exhibitors and registrants in the fight against cancer, resulted in a $2,000 donation to the American Cancer Society at MASI's Fall Conference, where over 2,700 business cards were exchanged - amounting to almost 75 cents per card!
The Inspiration for "Cards for a Cure"

Many of MASI's members will recognize Cora Beth Hartfield (MS Truck, Food & Fuel SIF Administrator) , pictured at left with her mother Sherry. In March of 2012, Sherry was diagnosed with stage IV inflammatory breast carcinoma (IBC), a very rare and aggressive form of breast cancer with no known cure. More than a year and a half later, tests show no evidence of the disease, a true testimony to the remarkable strides in treatment and the awesome power of prayer.
In recognition of Sherry's journey, and other MASI friends who have recently battled this disease, we decided to do something in Biloxi that would truly make a difference. To read the full text of Sherry's Story, click here.
MASI's 2013 FALL CONFERENCE SPONSORS AND PROGRAM BOOK
PRESENTATION LINKS:
Update from the MS Workers' Comp Commission
Legislative Update- Health and Work Comp Issues That Matter to You!
The Latest on Obamacare & Its Effect on Employers
Obamacare and Self-Insurance – Friend or Foe?
Innovations in Workplace Wellness — Strategies that Work!
Sixty Best Practices in Sixty Minutes
Ethics & Economics in Spine Surgery
Population Management – for Better Work Comp & Healthcare Results!
SPECIAL THANKS TO OUR SPONSORS:
Gold Patrons
· Midwest Employers Casualty Corp.
· Safety National Casualty Corp.
· Wells, Marble & Hurst
Silver Patrons
· Acclaim
· CCMSI
· CorVel Corporation
· Electric Power Associations of Mississippi
· Carr, Riggs & Ingram/Dan Holliday
· Foxworth Chiropractic
· Green Square Capital, LLC
· Southern Assoc. of Work Comp Administrators (SAWCA)
· Southern Farm Bureau Life Insurance Co.
Golf Beverage Cart Electric Power Associations of Mississippi
Golf Lunch Wells, Marble & Hurst, PA
Golf Sponsors
Anderson, Crawley & Burke, PLLC
Carr, Riggs & Ingram/Dan Holliday
Copeland, Cook, Taylor & Bush
CorVel Corporation
First Choice of Mississippi
MS Municipal Service Company
MS Truck, Food, Fuel SIF
Partners Rx
Regions Insurance
"Canvas & Cocktails" Sponsors
AccessOnTime
CorVel Corporation
Integrated Care Management - ICM
NeuroRestorative
One Call Care Management
Woodall & Broome Investigations
MASI's 2012 FALL CONFERENCE SPONSORS AND PROGRAM BOOK
Mississippi's New Work Comp Law - What Does It Do?
Workplace Wellness - The Viking Success Story
Health Reform - Where the Heck Are We Now?
Mississippi's Health Insurance Exchange - A Look to the Horizon
Return to Work Principles That Work!
Diabetes Case Management - The Context of Change
Specialty Pharmacy Strategies - Basics
Specialty Pharmacy Strategies - Satistics
Orthopedic Injuries - Controlling the Bottom Line
Situational Ethics - Real Life Stories!
Canvas & Cocktails Registration Form